Project Doomrider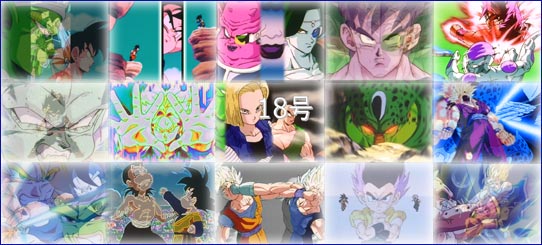 What if there was a nine-minute DragonBall Z music video? What if some of your favorite AMV editors (and site owners!) participated? What if... it didn't suck?
Such is the idea behind "Doomrider"; it's a multi-editor, collaborative anime music video project with the goal of covering the entire DBZ series (beginning to end!) in a single music video, spread across individual editors. Seventeen tracks, twelve editors, a nine-minute song, and 291 episodes worth of material.
Get Doomrider XviD
(512x384; 10:00; 160 MB; DivX-5-compatible XviD)
This file can also be found on the AnimeMusicVideos.org local server.
You must be a registered member in order to download. Membership is free!
However, the hosting fees are paid by us fans and creators...!
Please help, if you can! Every little bit helps.
Original Project Concept:
Ian Kasloff (DBZ_Doomrider)

Project Coordinators:
Ian Kasloff (DBZ_Doomrider)
Michael LaBrie (VegettoEX)

Technical Coordinator:
Michael LaBrie (VegettoEX)

Audio Preparation:
David P. (XenoDrake)

Track 01 - Raditz arc:
Michael LaBrie (VegettoEX)

Track 02 - Saiya-jin arc:
Meredith Cantoni (Meri)

Track 03 - Early Namek arc:
Ryan Molina (Castor Troy)

Track 04 - Ginyu Tokusentai arc:
Tim Park (Doki Doki Productions)

Track 05 - Freeza arc:
Ian Kasloff (DBZ_Doomrider)

Track 06 - Garlic Jr. arc:
James Scharmack (Hitori)

Track 07 - Trunks arc:
Danny Wilson (Dannywilson)

Track 08 - Jinzôningen arc:
Ryan Molina (Castor Troy)

Track 09 - 1st-form Cell arc:
James Scharmack (Hitori)

Track 10 - 2nd-form Cell arc:
Steve Voccola (Grover)

Track 11 - Perfect Cell arc:
Edward Voccola (Maverick)

Track 12 - Cell Games arc:
Jeff Heller (gambitt)
Michael LaBrie (VegettoEX)
Meredith Cantoni (Meri)

Track 13 - Ano Yo-ichi Budôkai arc:
Jonathan Tenorio (Wolf Hunter)

Track 14 - Great Saiyaman / 25th Tenka-ichi Budôkai arc:
Ron McClellan (FurryCurry)

Track 15 - Early Majin Buu arc:
David McKeen (mckeed)

Track 16 - "Super" Buu / Fusion arc:
Michael LaBrie (VegettoEX)

Track 17 - "Chibi" Buu arc:
Meredith Cantoni (Meri)